Certified Clinical Medical Assistant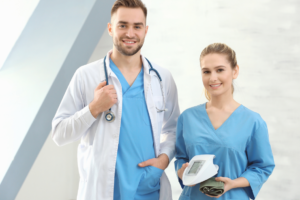 The U.S. Bureau of Labor Statistics ranks Clinical Medical Assistants among the fastest growing occupations through 2030. Employment as Aa CCMA is is projected to grow 18%- much faster than the average job ranking!!!!!
This is a great opportunity to begin your career in the health care field! What a great first step to a career in a medical pathway!
The Certified Clinical Medical Assistant course prepares students to provide quality clinical care to patients and assist in administrative tasks in a healthcare setting. Students will learn general clinical patient care procedures, medical office skills, the fundamentals of human anatomy and physiology, medical terminology, pharmacology, phlebotomy, medical law and ethics, and more. Upon successful completion of the CCMA course, students will be eligible to sit for the National Healthcareer Association Certified Clinical Medical Assistant Exam.
The Certified Clinical Medical Assistant (CCMA) course is only 20 weeks and is offered online and asynchronously with weekly, in-person labs.  Students only have to travel that one day per week.  This course results in the ability to sit for the American Health Association CCMA Certification, which is a nationally recognized credential.
We are working on a Medical Assistant Pathway with an apprenticeship option that will create a map from CCMA to Certified Medical Assistant and an Associate of Science in Medical Assisting which will offer an exciting earn and learn model.  More to come on that soon!
To return to view all training options under Healthcare Pathways click here